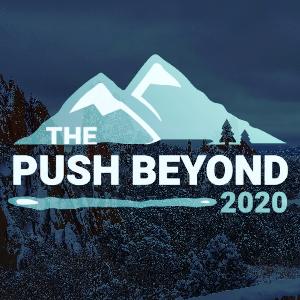 Welcome to my Chesapeake Bay Foundation personal page. I believe in their mission to turn the tide on the Bay's decline and invite you to join me in supporting their efforts with a donation today.
My name is Knots and I am hiking the Great Western Loop in 2020 with The Push Beyond team. The Great Western Loop is a 7,000 mile hiking route around the western United States. We have a team of twelve hikers starting in New Mexico on February 1st with the goal of hiking the entire trail in one year.


For this hike, I am raising donations for the Chesapeake Bay Foundation. I grew up in Front Royal, Virginia and went to school at Virginia Wesleyan. The beauty of the West has captured my eyes for the past few years but I want to increase awareness for the gems we have here on the Eastern Shore.
If you would like to donate and follow along with our
adventure, I suggest making a Per Mile Pledge. On our website (thepushbeyond.com), we
will have a mileage tracker. Check in to see our progress and make a pledge for how much you would like to donate per mile I complete of the Great Western Loop. I will update my blog (terminallycurio.us) along the way and The Push Beyond will be filming a weekly documentary web-series.


CBF is committed to making the Bay and its rivers and streams—from New York to Virginia—healthy and productive again. I share their vision of sustainable populations of crabs, fish, and oysters; of waters where our children and grandchildren can swim safely.


CBF is funded mostly by individual donors like you and me. Donations large and small help support CBF's on-the-water field experiences for students and teachers, tree plantings, oyster restoration, advocacy for stronger laws protecting the Bay, and litigation against polluters when necessary.
Every gift makes a difference!
$25

can plant five native trees as a streamside buffer.

$50 can grow 5,000 native oysters.

$140 can send two students for a day of learning in and around the Bay.

$500 can build 10 reef balls which are effective and safe artificial homes for oysters.
Get in touch with me via my website if you have any questions. I look forward to sharing this adventure with you all! Please donate on my page today and help me meet my fundraising goal and help CBF
Save the Bay
!
View More